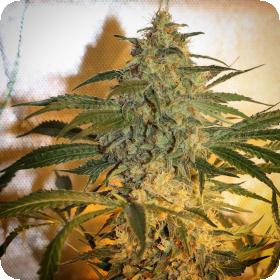 Brooklyn Mango Feminised Seeds
Brooklyn Mango was bred specifically for its amazing scent and flavour. Dr. Underground started off looking for plants that had a strong smell of mango, beginning with their mother Ed Rosenthal Super Bud.
They then tested this plant with a few different combinations and finally combined their strain with New York City Diesel. The result is a unique and delicious smelling plant with touches of mango, pineapple and lemon.
Since the buds are extremely dense, compact and resinous they are susceptible to mildew. 
This strain is feminised and will only grow into female plants. Feminised seeds are great for growers who don't want to breed their own crops. For these growers the male plants are a total nuisance as well as being a danger to the female plants during the flowering period.
This means they have to be removed, a huge waste of time and money. Feminised seeds also tend to be higher in quality and uniformity than regular seeds.
Some breeders even prefer to use them, even though feminised breeding is very difficult. These seeds are also photoperiod and will require a light cycle in order to flower. 
This strain has a flowering time of 8 – 9 weeks and can be grown indoors or outdoors. 
Remember that the cultivation of cannabis seeds is illegal in some countries, please check the laws of your country before attempting to cultivate cannabis seeds.