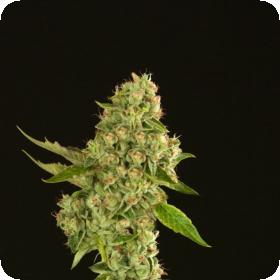 Kuchi is the ideal compact plant for growing in a small space. It is a cross between the San Fernando Valley of OG Kush and the Exodus Cheese; this was the very first strain of Devil's Harvest, offering exceptional value for money.
It has a classic Skunk "cheesey" flavour and an almost debilitating Knock-out Indica Stunt. The squat nature of this plant, together with its broad leaves, means that careful attention will be needed to prune the leaves to allow for greater light penetration.
Although it will be ready in 8 weeks of flowering, another 2 weeks will maximise both the effect and the yield, making the extra wait more than worthwhile.