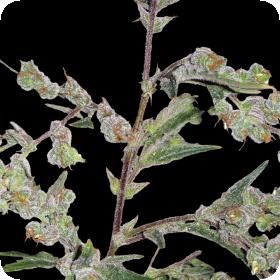 Dr Grinspoon Feminised Seeds
The name behind the strain is legendary. It is named after cannabis advocate author and researcher Dr. Lester Greenspoon. It is a genetically pure heirloom sativa that produces an end product that is at the same time light and potent.
A first taste of the Doctor's namesake awakens the palate with a spicy flavour mingled with a bouquet that calls to mind a medley of tropical fruits. The taste upon the draw is tangy and very citrusy, making it taste considerably like it smells, especially when burning.
It provides an invigorating effect that fills the head and is particularly long-lasting.
This plant grows tall and thin with colas resembling small beads that literally shimmer with THC crystals.
It can be almost hypnotic watching these plants mature. As the plant grows, its buds emit an aroma all their own - reminiscent of sumac blended with smoky ash and a sour lemony endnote on the exhale.
The plants grow tall and thin with a flowering time of 12-14 weeks. Yes, keeps its adoring public waiting as long as 100 days, but the show it puts on makes up for it.
It produces a yield of 350 g/sq. metre of delicious buds average. This may not be the strain for the uninitiate as with a whopping THC concentration and just 0.4% CBD, The Doctor packs quite a wallop and the effects are immediate.
This is one very typical sativa so enthusiasts of its kind will feel right at home growing and using it.
Dr. Greenspoon is well-suited for indoor growing and responds well to all common grow methods using soil, potting or hydroponics.
For growing outdoors, harvest of this strain occurs mid-November in the northern hemisphere and should be allowed a full 15 weeks from seed to mature.
Please remember that the growing of cannabis plants and the cultivation of seeds is illegal in some countries - please check the laws of your country and don't be growing any plants if it is against your country's laws.