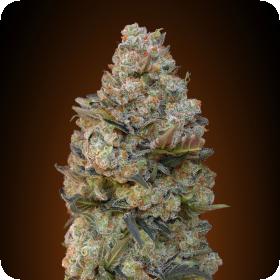 Chocolate Skunk Feminised Seeds
Chocolate Skunk is one of those strains that caters well to the grower.
A hybrid that contains some of the best Skunk genetics around, this strain retains all the most desirable qualities of the original enhanced by a shorter flower period and manageable size - great news for growers with limited indoor space.
This is a true high-performance strain with lots of lateral branching. It produces some truly exceptional product and it produces it in abundance. 00 Seed Bank has really hit on a winner with this one: a well-balanced, relaxing, happy hybrid effect coupled with an intense aroma and flavour.
That flavour is exceptionally sweet and rich. No, it isn't specifically "chocolatey" but it definitely contains the kind of sweetness that gives so many people an affection for good candy. It always leaves the palate craving more, particularly when vaped.
Chocolate Skunk also has large numbers of vigorous lateral branches. The plants often grow to nearly 5 feet in height outdoors, but indoor plants remain small enough to grow in any kind of setup including SOG and ScrOG.
When finished, Chocolate Skunk develops its signature sweet and fruity flavour and can produce yields that are above average for a Skunk strain.
Those impressive yields make this strain a popular one with hobbyist and serious commercial growers alike. Its buds are particularly dense and take on a thick coat of powerful resin when fully mature.
The compact structure of the plants makes it easy to grow more plants than average in a tight space.
The hybrid effect of Chocolate Skunk is a fine balance between a typical indica-type stone and a cerebral, stimulating sativa high. The best parts of both are evident in the overall effect.
Some users report that this strain in particular provides waves of creativity and awareness coupled with the head-filling indica effects to help "mellow out" as well.