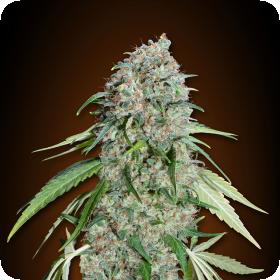 Chocolate Skunk CBD Feminised Seeds
Chocolate Skunk CBD by 00 Seeds is a Sativa dominant, CBD high strain which is ideal for those who are looking for something medicinal.
The effect is soft, long lasting and can provide some welcome relief for those suffering from pain, stress, depression, nausea and anxiety. The general feeling is an uplifting, cerebral one which is also great for those lacking in energy.
It is a crossing of Chocolope and Skunk which gives it that classic Skunk effect with that seriously delicious Chocolope taste, with just a touch of that Skunk after taste on the exhale.
This strain was chosen specifically for it's balanced THC and CBD content as well as its impressive yields. It is a fast grower that produces large amounts of large, sticky buds.
This particular version by 00 Seeds is also feminised, this means that all of the seeds will grow into productive female plants.
Feminised seeds have only been gaining popularity since their conception due to their easy to grow nature, generally higher level of quality as well as their time and money saving aspects.
The male plants in a regular crop, around 50% of the plants, would need to be removed during the growing process to allow the females to bloom unimpeded.
This in turn means that a grower could be throwing away around half of their plants for no good reason.
Regular seeds are often preferred by breeders, however for the more experienced breeders out there feminised seeds are certainly still an option.
Female plants can, if stressed correctly, breed with each other to give a high quality and uniform crop unlike any produced through regular breeding.
Indoors Chocolate Skunk CBD will reach a height of around 70 - 90 cm, has a flowering time of just 50 - 55 days and will give a yield of 400 g/m2. Outdoors it should be harvested in early October and will reach roughly 200 - 250 cm.
Please keep in mind that the cultivation of cannabis is illegal in several countries.