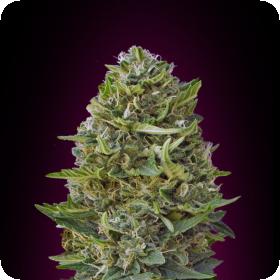 Caramel Kush Feminised Seeds
00 Seeds has taken one of their most fragrant and sweetest Indicas and crossed it with an elite specimen of Kosher Kush to bring to the table this unique and powerful strain.
The Caramel part is an homage to its awesome candy sweetness and the Kush tells anyone even slightly in the know what to expect from the experience.
Even Kush purists will have a hard time not being taken in by what this strain has to offer. Its effect is virtually identical to the original but the flavour will offer a very pleasant and welcome surprise to the palate.
It should be noted that this is a pure indica with a high THC content which means that it is not for lightweights or those who prefer a hybrid effect.
This one goes straight to the head and keeps the user couch-locked for extended periods of time.
It is not recommended for first-timers, but those who love the unspoiled experience of a pure indica will really be able to appreciate what Caramel Kush brings to the table.
Growing Caramel Kush is easy. Its tight indica structure makes it adaptable to almost any grow method or environment. Many growers swear by its ability to grow and produce well in Sea of Green and similar setups but it also takes well to potting and other soil environments.
The substrate isn't as important as the nutrients as these plants do prefer a nutrient-rich environment to thrive and produce well. Indoor yields range from about 350 to nearly 400 g per square metre on average. Flowering time is between 45 and 60 days.
These plants flower early and as such will need to be harvested early when grown outdoors. They dislike extreme fluctuations in temperatures so planning harvest around mid- to late-September is optimal.
Outdoor plants are capable of growing twice as large and can produce more than twice as much product.
Genetics:
Secret Indica Mother x Kosher Kush