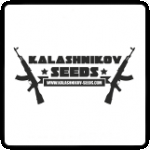 Kalashnikov Seeds was created by a small group of old school growers and Soviet army veterans who have been breeding cannabis seeds in Russia for more than a decade.
Kalachnikov Seeds is based in the Kuban region, near Sochi, and works in constant cooperation with cultivation partners in Saint Petersburg and the Far East region, close to China.
All Kalashnikov strains are the result of cross-breeding AK-47 (Serious Seeds) clones with Russian, Dutch, Spanish, Eastern European and Afghan soil races.
Kalashnikov Seeds have been breeding cannabis since 2002 and were first introduced to the Russian market in 2013 and to the wider European market in 2014.
In a short time, Kalashnikov Seeds became Russia's number one home-grown brand and
is now actively competing with many Western seed banks on their own territory. Kalachnikov Seeds are now available in five countries , including the United Kingdom, Germany , Italy , Spain and Poland.
In addition to autoflowering and feminised seeds, Kalashnikov Seeds has achieved an incredible line of Express strains, including AK Kush Express, Kalashnikov Express, Baikal Express, Kabul Express and White Critical Express.
These strains are characterised by shorter flowering periods than their feminised counterparts. However, the express strains of Kalashnikov are not self-flowering.
This is something absolutely unique to the international cannabis seed market, and that is why Kalashnikov Seeds does not specify the exact genetics of these express strains.
While Dutch and Spanish seed banks still dominate the bulk of the cannabis seed market in Russia, Kalashnikov Seeds intends to prove that Russian seeds are as good as any seed you can buy in other more established European countries.
Kalashnikov Seeds is taking part in a number of Cannabis Expos to spread their name across Europe and engage their customers on a personal level. Thanks to the beauty of many of their strains, they are gradually gaining popularity beyond the Russian border.
Try the best that Russia has to offer Kalashnikov Seeds are now available for purchase in the vault.