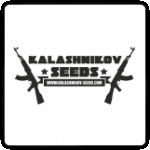 In mother Russia, you don't smoke cannabis - cannabis smokes you! At least if you are talking about the amazing, blazing strains being created by the team of genetic wizards at Kalashnikov Seeds!
The outstanding quality strains on offer from this team of old-school growers (including Soviet army veterans) will blow you away with their incredible potency, supreme reliability and great value.
Their full line-up has been created by cross-breeding AK-47 with a selection of landraces from all over Russia, Europe and Afghanistan.