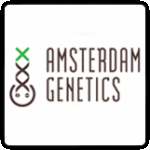 With their genetics deeply rooted in the history of some of the world's most famous coffee shops, including Boerejonges, Tweede Kamer and Coffeeshop Amsterdam, it is no wonder that Amsterdam Genetics considers itself an expert cannabis connoisseur.
At the heart of the cannabis world, Amsterdam Genetics is a modern and innovative group of qualified breeders based in the Dutch capital. With a team of highly experienced professionals, their growing reputation has arisen from an understanding of customer requirements and consistently high-quality seeds with unbelievably sought-after genetics.
Amsterdam Genetics offers its customers a range of regular, feminised and medical strains, all of which produce high-yielding plants of unparalleled superiority.
There is simply no better breeder for the true taste of Amsterdam.