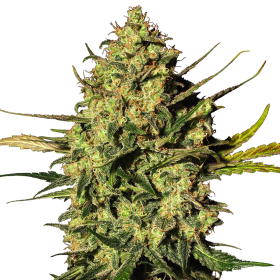 Master Kush Auto Feminised Seeds
Auto Master Kush comes from the original Master Kush, one of the first hybrids created with two pure kush strains. Both of these strains came from the vast Hindu Kush mountain range.
This version has the same parents and produces incredibly sized buds that are covered in a crystaline layer of resin. The levels of THC and CBD are both high, giving it a comfortable, calm yet buzzy effect.
The effect allows smokers to be relaxed and clear headed, without being stuck to the couch. This makes it perfect for medicinal or recreational use.
This strain is both feminised and auto-flowering, making it perfect for growers. Feminised seeds will only grow into female plants, which means no more having to deal with the pesky males.
The male plants take up around half of a regular crop, and have to be removed before they can harm the females. This is a huge waste of time and money for the grower.
Feminised seeds also tend to produce higher quality crops than regular seeds. Auto-flowering plants will flower on their own at a certain point in their life, making their flowering time and stature shorter.
Despite their size, these plants will still produce fantastic yields of top quality buds. This makes them perfect for indoor, stealth and commercial growing.
This strain has a flowering time of 40 – 50 days and can be grown indoors or outdoors.
Remember that the cultivation of cannabis seeds is illegal in some countries, please check the laws of your country before attempting to cultivate cannabis seeds.