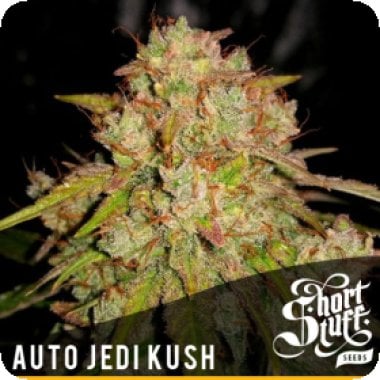 Jedi Kush Auto Flowering Seeds
Introducing Auto Jedi Kush, a remarkable new strain developed by Short Stuff. This strain is the result of crossing Skywalker with our favorite Auto OG Kush. Skywalker brings a fruity flavor with a dominant indica profile, while the OG Kush adds a medical pedigree that enhances your Jedi powers against the Darkside.
Auto Jedi Kush is a medium to large auto strain that typically grows to a height of 50-80cm. It has a classic OG Kush appearance, with a squat and solid structure. The main cola can grow impressively large, and the plant branches out nicely with minimal foliage, providing plenty of excellent bud-sites during harvest.
In terms of odor, the grow room remains minimal with hints of coffee, pine, and skunk. However, when you come into contact with the plant, it releases a fantastic OG stank. The buds are highly resinous, thanks to the abundance of trichomes, making it ideal for extracting hashish and rosin.
The effects of Auto Jedi Kush are predominantly indica, inducing a wonderful sense of relaxation after the first toke. It offers a full-body buzz that is perfect for relieving pain, anxiety, and lack of appetite.
This strain yields exceptionally well, even with shorter phenotypes. Under normal growing conditions, you can easily achieve 30-90 grams (1-3 ounces) per plant. In hydro setups, we have seen yields exceeding 150g from a single plant. Auto Jedi Kush is a rewarding strain in terms of both quality and quantity.
As part of Short Stuff's Boutique Line, Auto Jedi Kush represents the cutting edge of autoflowering cannabis genetics. Our master breeders have created tall, heavy-yielding strains that push the boundaries of what can be achieved with autos.