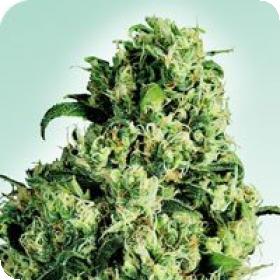 Sensi Skunk AUTO Feminised Seeds
A Skunk strain that actually smells good? Believe it!
Sensi Skunk is a surprisingly simple and rewarding strain to grow. It is a both feminized and auto-flowering version of a true cannabis classic. This strain is the product of a truly ground-breaking hybridisation effort.
The breeders crossed the already amazing Sensi Skunk with a genetically superior Ruderalis strain used extensively for breeding. The resulting creation is a Skunk strain that is unlike any other.
One of the most appealing parts of this strain is that it eliminates the majority of the hard work associated with cultivating cannabis. Whether it is being gown indoors or out, it grows almost completely on autopilot.
It responds well to any indoor growing method and is not reliant on changing light cycles or even excessive pruning. No hunting for male plants either - this strain is 100% feminised.
A word about outdoor growing, though: this strain responds best to temperate climates. Mediterranean conditions are about as harsh as these plants will stand so plan the growing environment based on geography and known whether conditions.
The plants begin flowering on their own after only about five weeks and have an equally fast flower period.
These seeds produce gorgeous, vigorous plants that are nicely compact, short and sturdy. Bud production is copious and the quality is virtually unmatched.
The flavour and aroma retain all the best traits of the original Sensi Skunk, giving off a notably sweet citrusy burst of flavour that is mirrored nicely in the aroma. This is a remarkable difference when compared to other skunk varieties.
The effect is mild but still potent enough to satisfy both casual and veteran users.
This is a great strain for anyone who is either clueless about how to grow cannabis or who just wants a super-easy- super-fast strain that brings on the good times without the wait.