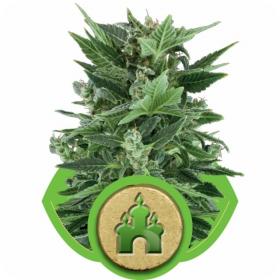 Royal Kush Automatic Feminised Seeds
This strain provides a welcome change to those who are fans of autoflowering strains. Royal Kush Automatic was born from a fast flowering Kush strain and a Ruderalis strain.
The influence of the Kush strain can be seen in the strain's height, however due to the Ruderalis portion of its genetic make up it is also very compact. The scent of the plant during flowering is powerful, rich, and has a spicy fruitiness to its aroma.
The effect of the strain is clear, uplifting and happy making it excellent for social occasions. It also is ideal for those suffering from stress, anxiety and depression.
The buds do not possess quite the same density as some other autoflowering strains, although the yields provided by the plant are still very impressive. The strain is also feminised making for an even more hassle-free growing experience.
Autoflowering seeds will flowering automatically rather than as a result of a specific light cycle. This has a number of beneficial attributes, for example is shortens the flowering time of the plant as these seeds will skip one stage in the growing process.
This stage is called the vegetative stage and requires a separate area as well as a significant amount of time and energy. Autoflowering plants will also generally grow to a shorter height, although this particular strain is not as short as some autoflowering strains.
This makes autoflowering strains perfect for indoor growing.
Feminised seeds, on the other hand, will only grow into female plants. This means that growers who do not plan on breeding do not have to deal with the issue of the males.
Usually the males are simply a nuisance, a waste of time, and a waste of money. Since around half of a regular crop is composed of male plants around half of the crop would be wasted. This also means that half of the money spent on the seeds is wasted.
Feminised seeds are also of a generally more impressive level of quality and uniformity. Around 80% of strains which have been feminised have shown improvement in both of these areas.
Royal Kush has a flowering time of 8 - 9 weeks and can be grown indoors or outdoors. The indoor yield reaches around 300 - 350 g/m2 and the outdoor yield roughly 120 - 170 g/plant. The indoor height of the strain is 60 - 90 cm and the outdoor height 120 - 150 cm.