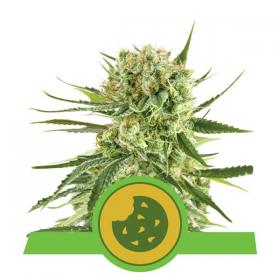 Royal Cookies Auto Feminised Seeds
This strain is a combination of 2 amazing Forum Cookies phenotypes. Royal Cookies is an indica dominant strain with amazing yields and a super short flowering time.
This strain gets its name from the sweet yet earthy flavour that comes out once it has been dried. The THC level can hit 23% and is both immensely euphoric and deeply relaxing.
This strain might be a little bit much for beginners, but is definitely a strain for those who want something a bit more intense. Perfect for an evening relaxing or a really good nights sleep.
Royal Cookies is a feminised strain, which means it will only grow into female plants. Feminised strains are great for growers who don't plan on breeding their own crops.
These growers have no need for the male plants, which would need to be removed during the flowering period. Since the males don't need to be kept for their pollen they are just a waste of time, money and space.
Feminised seeds will also usually produce higher quality plants and better crop uniformity than regular seeds. For this reason some breeders also prefer to use them, despite the increased difficulty of feminised breeding.
This strain can be grown indoors, outdoors or in a greenhouse and has a flowering time of just 56 – 63 days.
Genetics:
Girl Scout Cookies x Ruderalis