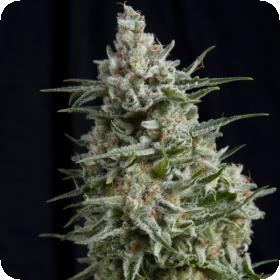 Anesthesia Auto Feminised Seeds
Auto Anesthesia combines ruderalis auto-flowering genetics to the Pyramid Seeds' Northern Lights x Black Domina hybrid, which is already well-established. 
It has dark green foliage and is an indica-dominant strain.
Auto Anesthesia is a small to medium-sized, bushy plant that grows 40-100 cm tall indoors and much taller outdoors when planted in the ground. 
It can be used in practically any growth scenario. 
When grown indoors, a 600 watt grow-light can provide up to 550 gr/m2 of dense, resinous buds in 49 days of blooming, which begins automatically after a brief period of vegetative growth. 
Outdoors, the flowering time is slightly longer, perhaps 10 days or so longer, with yields ranging from 30 to 90 grammes per plant. 
It is exceptionally tolerant of both under and over-feeding and is an excellent choice for a first-time grower because it is difficult to go wrong with it.
Because of the high calyx to leaf ratio, there are a lot of budding sites on this plant, and its buds are dense and firm, making it very easy to manicure. 
The scent is citrussy and delicious. The impact is very strong and long-lasting, with 17 percent THC and 1.6 percent CBD, creating a physically soothing, somewhat couch-lock sensation. 
High on indica It can be used therapeutically to reduce pain and assist with sleeping issues.
Genetics:
Northern Lights x Black Domina x Ruderalis