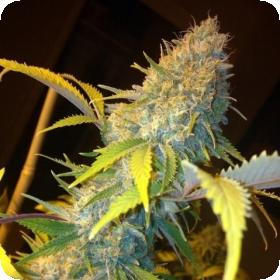 Northern Lights Express AUTO Feminised Seeds
Northern Lights is one of the worlds most famous strains, well known for its incredible effects and resin production. This strain was first created in the 70s and has been a cannabis community favourite since.
The yields will usually reach up to 200 g per plant, with a minimum of around 90g. Northern Lights Express has all of the amazing flavour of the original Northern Lights with an easy to grow nature.
This strain is great for medicinal users due to its high levels of CBD.
This strain is both auto-flowering and feminised, ideal for growers. Auto-flowering plants will flower on their own, rather than as the result of a light cycle.
This means they will have a much shorter flowering time as well as a shorter stature. Despite their size the plants still produce an amazing yield. This makes them perfect for indoor and commercial growing.
Feminised seeds will only grow into female plants. This makes them perfect for growers who have no interest in breeding. For these growers the male plants are useless and will harm the females during the flowering period.
This means they have to be removed, which is a huge waste of time and money. Feminised seeds also tend to produce higher quality plants than regular seeds.
This strain has a flowering time of 7 weeks and can be grown indoors, outdoors or in a greenhouse.
Genetics:
Original Northern Lights x Ruderalis