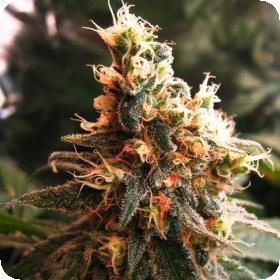 Auto Jock Horror Feminised Seeds
Nirvana Seeds Auto Jock Horror is an amazing three-way cross between Northern Lights, Skunk and Haze. The result is a cannabis strain that delivers a unique and stimulating buzz that rivals any one of its parent strains when compared side-by-side.
One of the many benefits of Jock Horror (aka "Jack") is the sheer amount of resin it produces. It is such a heavy-hitter that even its branches are covered in sticky, glistening resin.
Growers looking for a plant that finishes quickly, allows for a reasonable margin of error and is naturally resistant to all kinds of pests, moulds and fungi should definitely give this strain a try.
Under the right growing conditions, the results one gets from these plants is singularly impressive. These plants will respond well to virtually any growing method but with experience comes rewards.
Jock Horror is a very easy-to-grow strain, so novice growers should not be intimidated about giving it a go. Experienced growers, however, will really be able to bring out all the best these plants have to offer.
With the proper nutrition, lighting and pruning routines, the yields from these plants can be astronomical. Those yields are particularly impressive when the plants are grown using hydroponic methods.
The aroma also takes the best characteristics of all its parent strains and mingles them into one. The flavour mirrors the aroma well. Any user with an affection for Skunk in particular will find that Jock Horror makes them feel right at home.
The fragrance of the plants themselves as they grow is particularly pleasing and not overwhelming, despite the Skunk genetics. The breeders really got this one right! The effect is as smooth as the smoke itself.
It comes on strong then settles into a long-lasting uplifting full-body high.
Please remember that the growing of cannabis plants and the cultivation of seeds is illegal in some countries - please check the laws of your country and don't be growing any plants if it is against your country's laws.