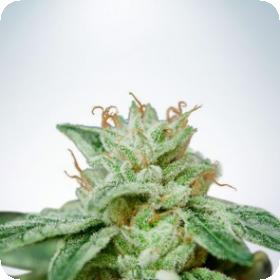 Star Auto CBD Feminised Seeds
Star CBD Auto is Ministry of Cannabis' first high-CBD strain, producing THC:CBD in a 1:1 ratio. 
Each of these major cannabinoids is present in about 10% of the population. It is made up of 70% Indica, 20% Ruderalis, and 10% Sativa genetics.
Auto CBD Star is a small, resilient plant that grows well both indoors and outdoors. 
With only 6 weeks of flowering period, the grower can harvest up to 120 gr/plant indoors or even more cultivated outdoors - up to 230 gr/plant is entirely conceivable. 
It smells like a combination of incense and musk.
Its 1:1 THC:CBD ratio makes it a well-balanced marijuana strain suitable for both recreational and medical use.
It is prescribed for pain relief and sleeplessness in the latter situation, but it is likely to have many more uses.