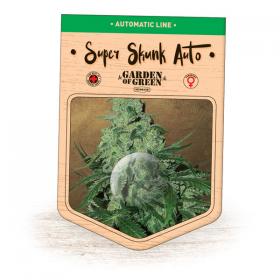 Super Skunk AUTO Feminised Seeds
Super Skunk Kush is a hybrid of pure Kush and an elite Super Skunk clone. As the genetics suggest this plant is fast flowering, extremely compact and grows beautifully.
The branches are plentiful, as are the buds which are dense and covered in resin. This strain produces huge amounts of resin which is extremely sweet with a hint of Afghan hash spice.
The effect is powerful and euphoric initially and then rolls down into a gentle physical relaxation. This makes it ideal for recreational and medicinal users alike.
This strain is feminised and will only grow into female plants. This makes them ideal for growers who don't plan on breeding their own crops.
For these growers the male plants are a nuisance and can damage the females during the flowering period. This means they have to be removed before they can do any damage.
Since around half of a regular crop is male, this can be a massive waste of time and money. Feminised seeds also tend to produce higher quality plants than regular seeds.
For this reason some breeders also prefer to use them, even though feminised breeding is difficult. These seeds are also photo-period and will require a light cycle in order to flower.
This strain has a flowering time of 55 – 60 days and can be grown indoors or outdoors.