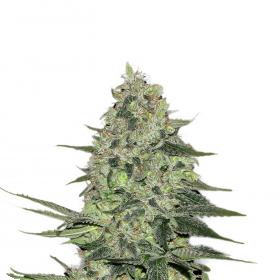 Rhino Ryder Autoflowering Feminised Seeds
Rhino Ryder is an auto-flowering strain that has been produced by crossing Medicine Man (a.k.a. White Rhino) with ruderalis genetics. It is a medicinal marijuana strain that is fast growing, early maturing and which requires no special skills or knowledge on the part of the grower.
Rhino Ryder is a good yielder producing between 450 - 650 gr/m2 indoors or 50 - 350 gr/plant depending on conditions outdoors. Its flowering period is about 9 weeks. It provides a good balance between indica and sativa effects. Its indica genetics contribute its medium CBD content of 1.2% while THC is high.
The overall effect is rather narcotic and is a good relaxant and reliever of chronic pain and this is tempered by the clear mental high of the sativa side which helps to relieve stress.
Rhino Ryder Autoflowering Feminised Seeds by the cannabis seeds breeder FastBuds Seeds, is a Autoflowering Feminised marijuana strain. This Indica / Sativa strain produces a High Indoors: 450-650 g/m2 & Outdoors: 50-350 g/plant yield.
This Feminised seed grows well in Indoors, Outdoors conditions. Additionally it can be expected to grow into a Medium plant reaching 60-100 cm. The CBD content of the strain is Medium (1-5%). This strain can be used to treat a variety of medical conditions including, Arthritis, Asthma, Epilepsy, Fibromyalgia, Glaucoma, Migraines, Multiple Sclerosis, Nausea, Pain, PMS, Stress.
Genetics:
Medicine Man (White Rhino) x Ruderalis