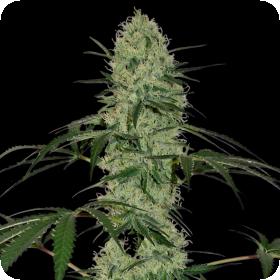 Sweet Tooth Auto Feminised Seeds
For all of those growers and breeders out there who are rightly obsessed with the original Sweet Tooth strain, this is a treat for you. Barneys Farm have now bred this super strain with ruderalis genetics in order to make it auto-flowering.
This favourite strain is now easier to grow and even more rewarding. Sweet Tooth is now smaller, faster and gives even better yields. This Indica strain will give around 600 g/m2 indoors and 200 g/plant outdoors, despite only being about 80cm tall. Ideal for those who just want a little private balcony plant.
The effect is typical of an Indica, and of Sweet Tooth, a blissful relaxation that makes it a perfect night time strain. Of course it has the classically sweet scent and taste that the strain is known for.
Sweet Tooth is both auto-flowering and feminised. This means it will have a generally shorter flowering time, a shorter height, a bigger yield and an all female crop. Auto-flowering strains skip the stage of the growing process known as the vegetative stage, which means that they don't require a specific light cycle in order to flower. Their shorter stature and great yield makes them ideal for indoor or stealth growing.
Feminised seeds can save a grower a good amount of time, money and effort that would have otherwise been wasted on the male plants. Feminised seeds are also generally of a higher quality and show better uniformity than regular seeds.
This strain thrives indoors or in a greenhouse and has a flowering period of 75 - 80 days.
Keep in mind that the cultivation of cannabis is illegal in several countries. Please check the laws of your country before attempting to grow cannabis seeds.