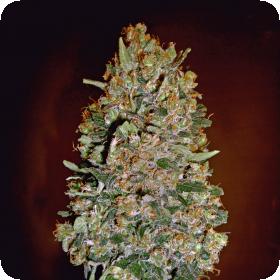 Chocolate Skunk Auto Feminised Seeds
Auto Chocolate Skunk has everything a grower could want. It is a hybrid cross between the already impressive original with the inclusion of ruderalis genetics for auto-flowering. This version retains all the best characteristics of the original with a faster growth and flowering schedule and a more manageable size.
A high-performance hybrid with huge branching, Chocolate Skunk produces some great product and lots of it. 00 Seed Bank has produced a real winner with a great hybrid effect that is blissful and relaxing with intense flavour and aroma profiles.
The flavour is very rich and sweet, not specifically chocolatey but definitely with the kind of sweet candy overtones that leave the palate wanting more. Vaporiser users report that the flavour of this strain intensifies considerably when vaped.
Just like the previous, non-auto version, Auto Chocolate Skunk has a large number of highly productive lateral branches. Outdoors, these plants can grow to heights of nearly 5 feet, but indoors they stay small enough to grow in SOG setups and respond favourably to consistent light cycles.
Growth time for the auto version is a full two weeks shorter than the original. When finished, it takes on that signature sweet, fruity flavour and yields in excess of anything that is typical of other auto-flowering cannabis plants. The huge yields make it popular among subsistence and commercial growers alike.
The buds produced by Auto Chocolate Skunk plants are very dense and, upon full maturity, develop a thick coat of potent resin crystals. Their compact structure makes them easy to grow in greater numbers in smaller spaces.
Auto Chocolate Skunk's hybrid effect will deliver a typically indica stone with some sativa-like cerebral effects tossed into the mix for good measure. The sativa side also delivers a burst of sustained creative thought for many users.
Genetics:
Chocolate Skunk (Critical Mass pheno) x Ruderalis