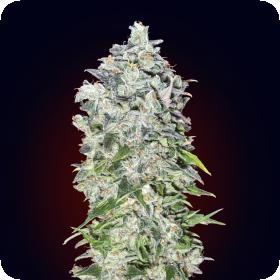 Auto 00 Kush Feminised Seeds
00 Kush by 00 Seeds is a wonderful new Indica genetic cross which was born in Northern California. This particular strain grows extremely dense buds and is extremely resinous.
The effect of the strain is extremely powerful both physically and mentally making it ideal for recreational use and as a pain killer. The aroma of the plant is sweet yet citrusy making the us of it an extremely enjoyable experience.
00 Kush is primarily recommended for indoor cultivation but it can also be grown outside.
This strain can be purchased in its feminised form which means it will only grow into female plants. Feminised plants have become extremely popular amongst growers of all types.
They tend to be of a much higher quality than regular seeds, they also remove a lot of the issues that usually come hand in hand with growing your own personal stock.
Using regular seeds means growing a combination of male and female plants. For those who do not plan on breeding their own plants this is a waste of time, money and seeds.
The male plants must be separated from the females or removed as they can damage the females while they are blooming.
The buds which are harvested will only grow in search of pollen, if this pollen finds its way to the buds from the males the harvest will literally turn to seed. For those who would like to breed their own plants but who would rather use feminised plants there is hope.
Female plants can be bred with other female plants. This process is far more complex than regular breeding but is possible and will render high quality, uniform plants.
Indoors 00 Kush has a yield of 400 g/m2, a flowering period of 70- 80 days and a height of 80 - 90 cm. Outdoors the plants can reach a height of 120 - 140cm and should be harvested in the middle of October.