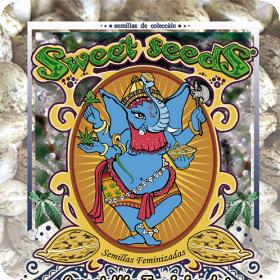 Sweet Mix Feminised Seeds
Sweet Feminised Mix is a selection of 10 100% feminised photo-period seeds. Mixes are ideal for all sorts of growers, whether they be old hands who feel like mixing it up a little or newbees looking for their perfect strain.
This mix contains no auto-flowering seeds and so will require a light cycle to reach flowering. In this selection are a number of fantastic strains from Sweet Seeds such as Cream Caramel, Jack 47 and Green Poison. The seeds will be delivered all together in a plastic tube. Having some variety in the garden doesn't need to break the bank.
This mix is feminised and the seeds will only grow into female plants. For a seed mix this is ideal as it means that every seed in the pack will grow into a female plant. This minimises wastage while saving a lot of time and money.
Male plants can harm the females during the flowering period and have to be removed. If they are not being used for breeding they are simply thrown away. Feminised seeds also tend to be higher in uniformity and quality than regular seeds. For this reason, some breeders also prefer to use them, despite the difficulty involved in feminised breeding.
These seeds can be grown indoors, outdoors or in a greenhouse and the flowering time will be depend on the strain.
Remember that the cultivation of cannabis seeds is illegal in some countries, please check the laws of your country before attempting to cultivate cannabis seeds.