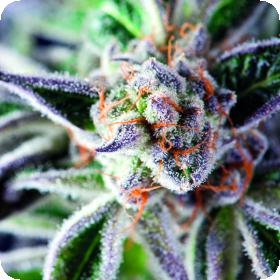 Do Si Dos Feminised Seeds
Do Si Dos is a 70% Indica hybrid of Face Off OG and Girl Scout Cookies. This hybrid's medicinal properties is accompanied with dark purple buds and extremely high THC levels.
Do Si Dos blossoms in 55 to 60 days when grown indoors, with yields exceeding 350 grammes per square metre. Plants in the northern hemisphere will be ready to harvest in September, yielding 750 grammes per plant. 
The mature buds will almost certainly turn a dark purple colour.
Do Si Dos has a sweet, earthy, and flowery aroma, with a flavour that combines the sweet fruitiness of GSC with the creaminess of Face Off OG.
THC levels can reach up to 25%, resulting in a highly euphoric high that gradually fades into a more relaxed and introspective state. 
Insomnia and depression can be treated with this strain.