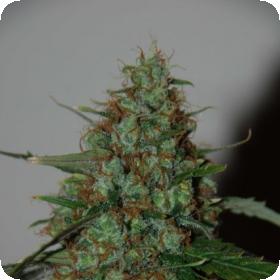 Wild Thailand Ryder Autoflowering Feminised Seeds
This wonderful strain by World of Seeds is a cross between a pure strain, which originated in the islands of Ko Chang archipelago in Thailand which has one of the highest THC levels currently available, and a Ruderalis strain. This strain took several generations of cross breeding, with the high quality Ruderalis, to perfect.
The resulting strain has the characteristics of an Asian Sativa and is capable of automatic flowering. Since this strain does not depend on photoperiod flowering it can be grown at any time of year. Although the type of climate certainly has an effect on the size of the yield.
The effect of the strain is euphoric and exhilarating and is often used as a medicinal strain. Wild Thailand Ryder is perfect for a day time painkiller as it relieves pain whilst still allowing the patient to remain active and lucid. The strain has a wonderful scent and flavour which is extremely citrussy with a slight touch of floral incense.
Wild Thailand Ryder is both autoflowering and feminised which makes it an extremely easy strain to grow. When seeds are feminised they will only grow into female plants. This is useful for a number of reasons including the increased quality and uniformity of the strain, as well as the removal of the male plants. Male plants can harm the females of the crop and so have to be removed at the start of the growing process.
Since roughly half of a regular crop is male this is a waste of money as well as a huge waste of time and energy. Purchasing feminised seeds means that the customer receives excellent value for money. Feminised seeds are also of a generally higher quality level and their uniformity is significantly more impressive than that of regular seeds.
Autoflowering seeds flower of their own accord rather than as a response to a specific light cycle. This makes them much easier and much faster to grow. They will grow faster than regular seeds because their autoflowering nature causes them to completely skip a section of the growing process. This stage is known as the vegetative stage. As a result they are not only ready for harvest much sooner than regular seeds but they can also be kept to a much shorter height. They also tend to produce a much more impressive yield than regular plants.
Genetics:
Wild Thailand x Ruderalis