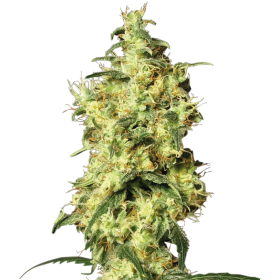 White Widow Auto Feminised Seeds
Auto White Widow is a combination of Ruderalis genes and the famous White Widow. White Widow is well known for its impressive potency, thick coating of resin and delightfully relaxed yet mind opening effects.
This cross has maintained all of these things whilst shortening the height and the flowering time. It is not possible to produce two crops per season in the same growing space.
This strain can also grow at fairly high latitudes including Northern Europe and will even thrive in this sort of weather.
White Widow is indica dominant and produces immense amounts of resin, making it very popular for extraction methods.
This strain is auto-flowering and feminised, making it ideal for all sorts of growers. Most growers have no need for male plants, which makes feminised seeds ideal.
Feminised seeds are not only higher in quality and uniformity, but they only grow into female plants which can save a lot of time and money.
Male plants can harm the females during the flowering period, and so if they are not being used for breeding they have to be thrown out.
Auto-flowering seeds flower on their own, rather than in response to a light cycle. This means that the flowering time and the stature of the plant are both shorter. Despite their small size they still have the same impressive yield.
This strain can be grown indoors, outdoors or in a greenhouse and has a flowering time of 50 – 65 days.