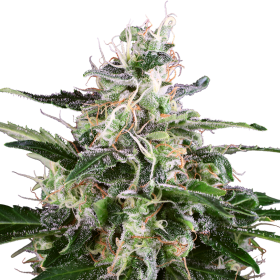 White Skunk Auto Feminised Seeds
White Skunk is an incredible strain that for years has proven to be the best strain for new growers. The original strain was created to provide an affordable, top quality strain for those who knew very little about growing.
Now this auto-flowering version makes life even easier. The buds are dense and coated in resin crystals, with a distinct scent of sharp, bitter orange and an undertone of dark chocolate.
The levels of THC are well balanced with the CBD, which makes it a great medicinal and recreational strain. The effect is long lasting and powerful with a soft, relaxing bodily effect and a happy, giggly mental buzz.
This strain is both feminised and auto-flowering, making it ideal for growers. Feminised seeds will only grow into female plants, meaning growers don't have to mess around with the male plants.
The males take up half of a regular crop, and have to be removed before they can harm the females. This is a huge waste of time, space and money.
Feminised seeds also tend to produce higher quality crops than regular seeds. Auto-flowering plants will flower at a certain point in their life, rather than as the result of a light cycle.
This shortens the flowering time of the plant as well as the stature. Despite their size these plants will still produce amazing yields. This makes them ideal for indoor, commercial and stealth growing.
This strain has a flowering time of 45 – 55 days and can be grown indoors or outdoors.
Remember that the cultivation of cannabis seeds is illegal in some countries, please check the laws of your country before attempting to cultivate cannabis seeds.