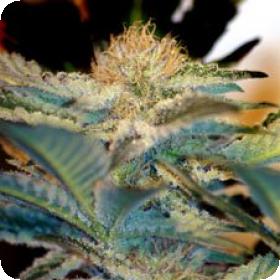 Mohan Ram Auto Feminised Seeds
The Mohan Ram Auto Feminised strain is yet another astonishing hybrid from the breeders at Sweet Seeds. This strain is a cross between two of the most popular strains on the market, White Widow and SAD (Sweet Afghani Delicious).
One of the most impressive things about this strain is its astonishing THC content. It is also famed for its extremely high yields. Mohan Ram inherited positive aspects of both of its parents, the light, fresh, kick of White Widow and the legendary flavour of SAD.
Years of testing, breeding and careful selection have resulted in a solid, sturdy, trustworthy strain which is not only auto-flowering but also feminised making it incredibly user-friendly.
The Mohan Ram seeds being both auto-flowering and feminised makes them far easier to grow than most regular strains. Auto-flowering seeds are extremely popular amongst modern growers as they hugely improve the growing experience in a number of ways.
Firstly the flowering time for auto-flowering strains is much shorter than regular strains, this means that they can be grown in climates that suffer from shorter summers.
This is because auto-flowering strains flowers automatically at a certain age rather than as the result of a specific light-cycle. Happily this means that there is no need to have a separate area for vegetation and for flowering which saves growers a lot of time and effort.
Finally, they can be kept to a much shorter height without the yield being in any way affected, perfect for indoor growing or smaller gardens.
The feminised side of Mohan Ram's genetic makeup means that these seeds will only grow into female plants.
For growers with no interest in breeding this is not only ideal but necessary to save a considerable amount of time, money, and space.
With feminised seeds growers need no longer remove the males as the start of the flowering process and thus the space that they would have wasted is used by female plants.
The grower need also only buy as many seeds as their desired number of females, rather than twice as many as they would with regular seeds.
Moham Ram takes 8 - 9 weeks to fully mature and will grow to a height of roughly 75 cm. It can be grown indoors or outdoors and its outdoor yield will be around 180g/plant.
Please remember that the growing of cannabis plants and the cultivation of seeds is illegal in some countries - please check the laws of your country and don't be growing any plants if it is against your country's laws