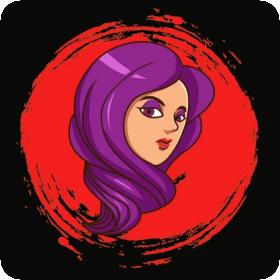 Violet's Wonder Auto Feminised Seeds
A fast and furious lady behind the wheels of an energetic sativa ride is the best way to describe our Violet'€™s Wonder autoflowering cannabis strain. With a lifecycle of 10 to 11 weeks a grower can now enjoy her wonderful violet/purple buds in a rapid growing time. T
reat her as a lady and in return she will give you her full potential with a sweet, citrus and earthy aroma. You can take her to almost any place/climate, and she will always grow into a beautiful looking autoflowering cannabis strain. Ladies like sunbathing and so does Violet'€™s Wonder.
So make sure you put your sunscreen on when you want to enjoy her appearance because she likes lots of sun.
When giving her the correct fertilizer you can easily harvest between 200 to 300g/m2 indoors. Outdoors when given enough room to grow you can achieve harvests between 50 and 70 grams per plant. Grown in sunny climates will increase her harvest even more.
Sweet, citrus and earthy is the best way to describe her aroma and taste. A social energetic sativa high is immediately noticed when consuming Violet's Wonder Auto. An average THC level with a low CBD percentage.