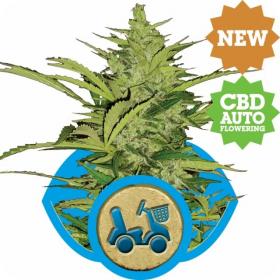 Fast Eddy Automatic Feminised Seeds
Fast Eddy is a combination of Cheese and Juanita La Lagrimosa with a ruderalis strain. The result is a high yielding plant with a lucid high and bags of CBD.
This strain is straightforward to grow, making it ideal for all types of growers. It has an amazing flavour which is a mixture of citrus and Skunk, perfect for those who like something a little more old school.
The effect is comfortable and enjoyable, not too mind melting, and ideal for day time or social use. The THC level sits at around 9% with relatively high levels of CBD, which makes it great for medicinal users.
This strain is both auto-flowering and feminised. Auto-flowering strains are ideal for those who are short on time and space. They flower automatically at a certain point in their life, rather than as a response to a light cycle.
This not only takes some pressure off the grower but also shortens the vegetative period, which in turn shortens the flowering time. The structure of the plant is also shorter and more compact, meaning that more plants can be squeezed into a grow space.
Despite their small size they will still produce extremely impressive yields. Feminised seeds will only grow into female plants, which can save growers a lot of time and money. They also tend to be higher in quality and uniformity than regular seeds.
This strain needs 8 – 9 weeks to flower and can be grown indoors or outdoors.
Genetics:
(Cheese x Juanita La Lagrimosa) x Ruderalis