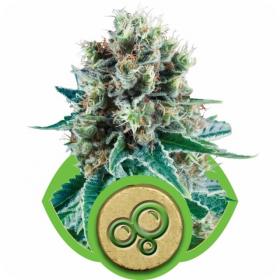 Bubble Kush AUTO Feminised Seeds
Bubble Kush Auto is a 3-way hybrid marijuana strain produced by Bubble Gum, O.G. Kush and Royal Critical Automatic. Unsurprisingly, it has a very attractive sweet taste with subtly earthy undertones. The effect is quite strong and very stony.
Bubble Kush Auto is an automatic strain that will grow well in all environments, even if it is grown outdoors in a warm climate such as that of the Mediterranean. There should be no more than 100 cm indoors; outdoor plants can grow to about 140 cm.
If planted in large pots or directly in the ground where the conditions are warm enough. The yields are quite good; indoor growers can expect to harvest between 350-400 gr / m2 and outdoors each plant produces between 120-170 gr. Dry weight.
It's a very simple cannabis strain to grow, and even the novice should face a few problems.
Cannabinoid levels are 16 per cent THC with low levels of CBD but due to the indicated predominance (60 per cent) feelings of increased appetite as well as general relaxation can help to combat stress.
Although the high is very smooth with no lethargy or relapse, some smokers have reported good results in the fight against insomnia.
Genetics:
Bubble Gum x O.G. Kush x Critical Automatic