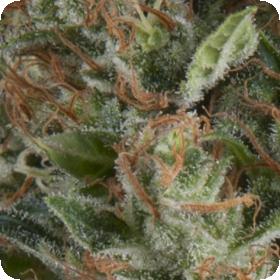 Wembley Auto Feminised Seeds
Auto Wembley is an indica-dominant autoflowering strain created by crossing the legendary AK47 with the delicious Bubble Gum and adding ruderalis traits. 
It combines the pleasant and long-lasting effects of AK with the fresh tropical fruit flavour of Bubble Gum, which is reminiscent of chewing gum.
Auto Wembley is a short auto strain that will grow to a maximum height of 100 cm in 20 gallon pots if planted outdoors. 
Indoors, plants will be a little shorter, but if planted at a density of 20 per m2, they can yield up to 550 gr/m2 under 600 watt grow lights. 
When grown outdoors, this cannabis strain can yield between 30 and 200 grammes per plant. 
The foliage has a light green colour, and the buds are dense and sticky with resin. From seedling to harvest, the whole growing time is about 75 days.
Its massive buds are covered in orange pistils and a thick layer of resin. 
The flavour is sweet and delicious bubblegum-like. 
Its THC content of 18%, combined with a CBD content of 0.8 percent, results in a strong, long-lasting high.
Genetics:
AK47 x Bubble Gum x Ruderalis