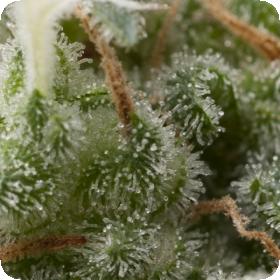 Super Hash Auto Feminised Seeds
The autoflowering form of the very resinous Super Hash strain is known as Super Hash Auto. 
It blooms even faster than the photoperiod strain, making it an excellent alternative for growers in a hurry. 
This indica-dominant plant contains trichomes on its leaves and would be ideal for extract production.
Pyramid Seeds' Auto Super Hash thrives both inside and outdoors, reaching a height of 70-140 cm. 
Indoors, grown under 600 watt grow lights and sown at a density of 20 plants per light, it can yield 500-550 gr/m. Outdoors, depending on the local climate and weather patterns, consecutive harvests can be cultivated by planting new seedlings every month from April or May through August or even September.
The flavour of this automated cannabis type is similar to that of hashish. 
It contains 17 percent THC and 1.6% CBD, and the effect is incredibly soothing, long-lasting, and ideal for unwinding after a busy day.