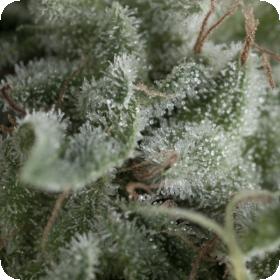 Nefertiti Auto Feminised Seeds
Pyramid created Auto Nefertiti by combining ruderalis DNA with their current strain Nefertiti.  
This Sativa-dominant marijuana strain is a cross between Black Widow, White Widow, and Ruderalis.
Auto Nefertiti may be grown both indoors and outdoors. It has an extremely aggressive growth style.
Plants grown inside can reach a height of one metre or somewhat more. 
Yields are approximately 550 gr/m22. Outdoors, plants can grow up to 160 cm tall and generate up to 150 gr per plant. 
The buds have a spongy texture, not as firm or solid as Indica buds, yet they are densely packed with resin.
The flavour has a Haze spiciness to it that turns sweet on the finish. 
It's comparable to the feminised Nefertiti strain, but with some great fruity flavours like orange, citrus, and strawberry. 
THC production is high (19%), but CBD production is modest (0.7%). The effect is both potent and long-lasting.
Genetics:
Black Widow x White Widow x Ruderalis