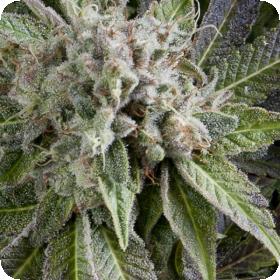 Blue Pyramid Auto Feminised Seeds
Following the extensive research that resulted in Blue Pyramid, it was determined to create an auto strain of this plant. 
Auto Blue Pyramid exhibits a strong Indica influence in both appearance and impact.
Auto Blue Pyramid is a short strain that grows to a height of 40 to 90 cm. 
It has the same flowering time outdoors as it does indoors, which is unusual for an automated Pyramid Seeds variety. 
Under 600 watt grow lights, it may produce yields of 500 gr/m2 in 67 days from seedling. 
Outdoors, within the same time period, each plant can produce up to 100 g/plant. 
To completely capitalise on this strain's proclivity to produce blue hues, keep nighttime temps as low as possible. 
Buds are dense and packed with resin crystals. Auto Blue Pyramid has a delightful sweet, fruity, berry flavour, and its THC content of 15% with 1.4 percent CBD delivers a highly soothing effect that generates a sense of overall well-being. 
It is suggested for general therapeutic usage, but no further information is available at this time.