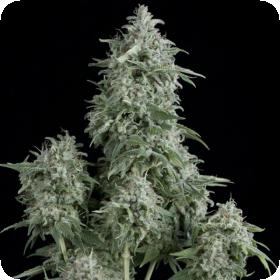 Anubis Auto Feminised Seeds
Auto Anubis is the result of introducing ruderalis genetic material into Anubis, which is an Indica-dominant cross of Somango and Wembley. 
It grows into a bushy plant with a width that frequently exceeds its height. Growers can expect dense buds encrusted with THC resin crystals.
This automated plant thrives indoors or, if grown outside, benefits from a Mediterranean or even warmer climate. 
Plants can grow to be 30 - 130 cm tall, with indoor yields of 500 - 550 gr/m2 under a 600 watt lighting system. 
Outdoors, harvests can reach up to 80 grams per plant. Flowering time is approximately 8 weeks for indoor plants and a week or two longer for outdoor plants.
Auto Anubis has a pleasant smell and a slightly sharp citrus flavour. 
THC values are roughly 15%, with CBD around 0.7 percent. 
This strain has a soothing effect because of its excellent balance of active components THC, CBD, and CBN.