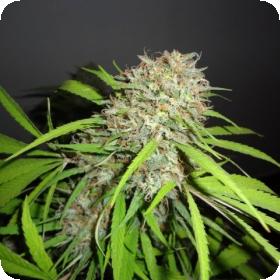 Original Skunk Express AUTO Feminised Seeds
Original Skunk Express Auto is an upgraded version of the original Skunk, one of the oldest strains around. It originally came out in the 70s and was released in Holland.
This strain took off straight away and became extremely popular. The effect is happy and uplifting but extremely potent and long lasting. The genetic background consists of Columbian Gold, Afghani and Acapulco Gold.
This strain has a short flowering period and produces amazing yields. Skunk has a pretty impressive scent and will need a good amount of ventilation, definitely not great for sneaky outdoor growing.
This strain is both auto-flowering and feminised, ideal for growers. Auto-flowering plants will flower automatically rather than as the result of a light cycle.
This means a much shorter flowering time and a shorter stature. Despite the size of the plants they will still produce an amazing yield. This makes them perfect for indoor growing and commercial growing.
Feminised seeds will only grow into female plants, which is perfect for growers who don't want to breed their own crops.
For these growers the males are a huge waste of time and money. Feminised seeds also tend to produce higher quality crops than regular seeds.
This strain has a flowering time of 7 weeks and can be grown indoors, outdoors or in a greenhouse.
Genetics:
Original Skunk x Ruderalis