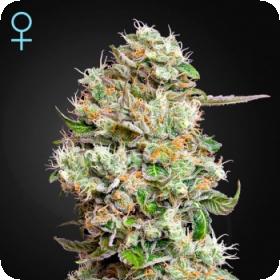 King's Kush CBD Auto Feminised Seeds
King's Kush Auto CBD is made up of genetic components from King's Kush, Ruderalis, and high CBD strains. 
It is a marijuana strain made up of 40% Indica, 40% Sativa, and 20% Ruderalis, with similar quantities of THC and CBD ranging from 5% to 8%. 
It's a strain that can be cultivated both indoors and outdoors with great success.
Indoors, it starts flowering after 2 weeks and is ready in another 7 weeks, for a total of 9 weeks from seed. Indoors, with an 18-hour light cycle, yields can reach 600 g/m2. 
Outdoors, it will flower at any time of year as long as the temperature does not dip below 10°C, giving about 70 - 80 gr. from plants that grow to about 80 cm - 90 cm tall.
King's Kush Auto CBD has a long-lasting effect and is more of a physical body stone. 
Because of these properties, it is expected to be therapeutically effective, particularly for pain reduction.
Genetics:
King's Kush x Ruderalis x High CBD Genetics