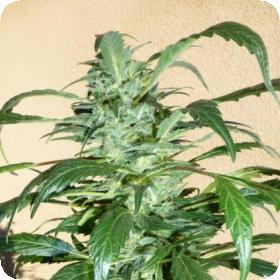 MI6 SuperAuto Feminised Seeds
This strain is known as the secret weapon of Flash Seeds, this is partly because it can be grown in all conditions. Due to its fantastic Sativa genetics it is extremely mould resistant and so ideal for beginners.
It is a combination of AK47, Blueberry and Stitch 0.2, all of which are extremely impressive strains. The flavour of the strain is also one of its best aspects, it has a sweet and fruity bubble gum taste.
This flavour is found in a number of Flash Seeds SuperAuto plants. It is a super fast flowering strain with powerful development, an open structure and extremely resinous flowers. This open structure is just what allows the strain to resist mould and disease.
M16 is an autoflowering and feminised strain which means it has been altered in order to make it more user-friendly.
Feminised seeds are especially popular amongst growers as they eliminate the issue of the male plants. Male plants, if they are not being used for breeding, waste time, money and energy.
They usually have to be removed at the start of the flowering process which means that around half of a regular crop will be wasted. This also means that half of the money that the grower has spent on seeds will be wasted.
Feminised seeds are also of a generally higher level of quality and uniformity than regular seeds. In fact around 80% of strains which have been altered in this way have shown improvement in both areas.
Autoflowering plants, on the other hand, flower automatically rather than to a specific light cycle. This can make them a little easier for new growers to use. Due to this automatic flowering they will skip an entire stage of the flowering process known as the vegetative stage.
Skipping this stage will make the flowering time of the plant considerably shorter. Autoflowering plants can also be grown to a shorter height whilst maintaining a larger than average yield. This makes them perfect for indoor growing.
MI6 can be grown indoors, outdoors or in a greenhouse. It has a flowering time of 90 - 100 days from seed, a height of 150 - 250 cm and a yield of 150 - 400 g/plant.
Genetics:
AK x 47 x Blueberry x Stitch0.2