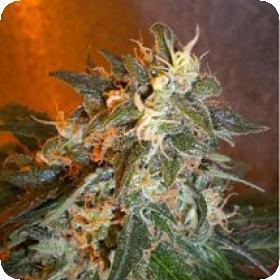 Cobra Autoflowering Regular Seeds
Cobra Autoflowering is an automatic cannabis strain developed by the expert breeders at Flash Seeds. They took a superior specimen of Lowryder #2 to get the Autoflowering genetics and crossed that with a classic Lebanese variety Blueberry.
The result is an impressive auto-feminised strain with an aroma and flavour that are both pleasing and unique.
Flowering time for Cobra is about 10 weeks from seed to harvest, making this an ideal strain for those growers who appreciate high quality in a short amount of time.
Just like with most automatics, the workable size and rapid finish makes this the perfect choice for those who are interested in discretion and stealth.
Cobra performs well in indoor environments, especially when placed on a regular light cycle. They also appreciate natural light and will grow equally well outdoors when grown during the summer months when days are long and weather is warm.
Simulating these conditions indoors will result in comparable yields of equal quality. In areas with long growing seasons, these plants are capable of producing as many as three harvests per year, making the return on investment in these seeds very attractive.
The plants present with a single main cola that is packed densely with tight, sticky buds that are soaked in potent resin. The structure makes it a perfect choice for growing using SOG or ScrOG systems.
They give off a sweet berry aroma that intensifies as they mature and the flavour of the end product is almost exactly the same as the smell.
The hit it produces is a nicely balanced hybrid that provides good brain stimulation mingled with a comfortable, relaxing full-body stone. It is not at all overpowering and is suitable for use during the daytime when productivity may be a consideration.
Please remember that the growing of cannabis plants and the cultivation of seeds is illegal in some countries - please check the laws of your country and don't be growing any plants if it is against your country's laws.