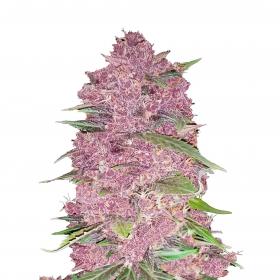 Purple Lemonade Auto Feminised Seeds
Purple Lemonade Auto is a 70% indica hybrid bred from the greatest Californian Purple and Citrus genetic material, with the addition of ruderalis' auto-flowering features. 
Purple Lemonade grows to a height of 70 to 110 cm. It responds well to nutrients when grown in soil but performs better than expected with little or no supplementary feed. 
Purple Lemonade grows quickly and reacts well to LST (low stress training), with its inter-nodal spacing suitable for promoting buds to shoot upwards and so improving yields.
Once flowering begins, it will take 8 to 9 weeks to complete and be ready for harvest.
Excellent yields both indoors and outdoors, as well as excellent THC output. Yields are in the 400-500 gr/m2 range.  
Indoors, odour control would be a good option because the strong citrus aroma pervades the grow-room as well as the dried buds. 
Plants that have received additional nutrients will perform better during a two-week flush. 
Buds are a lovely purple colour with orange pistils. The tiny leaves that surround the buds are dark green and heavily covered in resin-producing trichomes. 
THC production has increased to 22 percent, despite low CBD levels. 
The impact is euphoric at first, with sativa genetics shining through, before evolving into a more physically relaxing high that never degenerates into couch-lock. 
It has a citrus flavour with a slightly sweet finish, It's a terrific daytime smoke/vape that's also very calming in the evening.
Genetics:
Purple x Citrus x Ruderalis