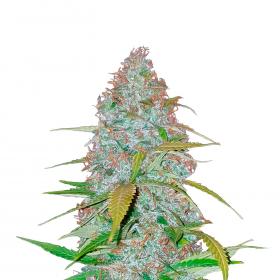 Californian Snow Autoflowering Feminised Seeds
This is the rarest and most daring strain created by FastBuds team of botanists. Californian Snow is a cross between an American Old School Hot California strain and a Canadian Ruderalis that we discovered in late 2013.
It is quite stable and displays a greater percentage of Sativa phenotypes, though it incorporates Indica genetics.
The mature plant is thickly dusted with snow when at peak flowering. That's why it's named Californian Snow - the buds are so covered with resin they appear to be snowy like the summit of a snow-covered mountain that looms above a warm, sunny California valley.
You'll be wishing you could be shreddin' the gnar on the main cola with your snowboard! It looks awesome bro!
Californian Snow Autoflowering Feminised Seeds by the cannabis seeds breeder FastBuds Seeds, is an Autoflowering Feminised marijuana strain. This Indica / Sativa strain produces a Medium, High Indoors: 400-550g/m2 & Outdoors: 50-250 g/plant yield.
This Feminised seed grows well in Indoors, Outdoors conditions. Additionally, it can be expected to grow into a Medium plant reaching 80-130 cm.
This strain has American Old School Hot California strain x Canadian Ruderalis Genetics. It has a Very High THC Content. The CBD content of the strain is Low (0-1%).
This strain can be used to treat a variety of medical conditions including, Arthritis, Asthma, Epilepsy, Glaucoma, Migraines, Multiple Sclerosis, Nausea, Pain, PMS, Stress.
Genetics:
American Old School Hot California strain x Canadian Ruderalis