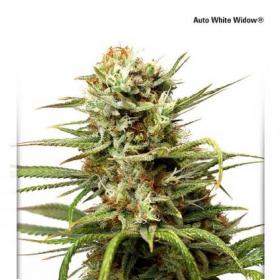 White Widow Auto Feminised Seeds
After many years of careful selection, Dutch Passion is pleased to present its special AutoWhite Widow Cannabis Seeds.
AutoWhite Widow is a strong, vigorous Auto with a powerful effect that was made with the same genetics, which won countless awards and satisfied thousands of farmers from its original White Widow Mother Plant.
AutoWhite Widow is very consistent and growing easily.
Its automatic version is ready to be harvested about 75 days after germination and will produce 50 to 150 g+ per plant outside.
Experienced indoor Auto producers can harvest 200g+ from a single plant. Plants are approximately 60cm to 1m high.
The taste is fresh, pine citrus, quite sweet and strong, and the effect is quick.
Auto White Widow Cannabis Seeds produce bushy and frosty plants with many flowers.
During growth and dense hard buds, it produces strong aroma.
The effect is balanced and pleasant, combining a strong cerebral impact with an extraordinarily pleasant physical effect.
AutoWhite Widow is one of the best Dutch passion Auto's and is strongly recommended to those who want an easy-growing and powerful Auto with generous returns.