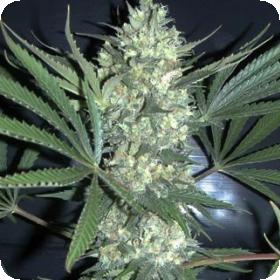 Chiesel AUTO Feminised Seeds
Cannabis connoisseurs are sure to piece together where the name of this plant comes from. It is the result of crossing two iconic strains: Cheese and NYC Diesel.
Cheese is Big Buddha's go-to strain for a huge number of their hybridization projects and anything with which it has ever been crossed has been tremendously enhanced while maintaining those aspects that make it unique.
Case in point: Chiesel has all the best qualities of the NYC Diesel, only accentuated by the Cheese genetics. Fans of Diesel will immediately recognize the sour, grapefruit-like flavour and clear-headed euphoric effect merged with the faint hint of feta cheese aroma that is Cheese's signature.
These auto-feminised seeds provide and an excellent germination rate and superior yield. After a proper soaking, it only takes a day for them to germinate.
The seedlings are very strong and grow into hardy plants that respond well to all growing methods, both indoors and out. The strain is mostly sativa (60%) but also possesses many of the great qualities that its indica genetics bring to the table.
Mature plants are visually stunning and with a well-developed branching structure secured by a sturdy central stem. The height of mature plants is under 5 feet (well under when grown indoors).
Once mature, Chiesel plants take on a lush, dark green colour with pointy, narrow leaves. The ratio of leaves to buds is nicely balanced and the structure of the plants allow enough light and space for those buds to really flourish.
Chiesel flowers and matures fully after about 10 weeks. The buds contain a very high THC concentration and a high 1.4% CBD concentration. The result is a balance between a heavy indica stone and a clear-headed sativa high that leaves the user relaxed but still functional.
No couch-locking with Chiesel, just warm, good feelings.
Please remember that the growing of cannabis plants and the cultivation of seeds is illegal in some countries - please check the laws of your country and don't be growing any plants if it is against your country's laws.
Genetics:
CHIESEL X 3RD Gen Automatic