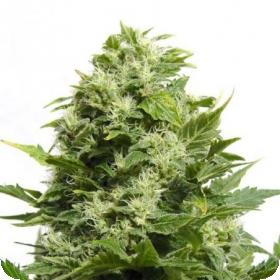 Blue Cheese AUTO Feminised Seeds
Blue Cheese is an 80% sativa, 20% indica hybrid from Big Buddha seeds. It is a cross between a Cheese female and a select group of Blueberry males. It is a favourite in many hybridization projects and is very stable. It is recognized by its short flowering period - just 8 to 10 weeks - and its excellent yields.
Blue Cheese combines all the most favourable characteristics of both parent strains. The stability of the seeds is the result of a number of successful Big Buddha breeding experiments, as is their superior germination rate. The plants are stocky, short and very bushy so growers should leave plenty of space for Blue Cheese to stretch. The flowers are tight and compact, swirly and round and take on a particular purple hue when approaching full maturity.
Indoor growers find particular success in using the Sea of Green growing method with Blue Cheese owing to the plant's close internodes. Each plant produces one very large main cola and its yield is increased considerably with controlled side branching. Outdoor growers should plan to harvest Blue Cheese at the end of October in the Northern hemisphere.
Blue Cheese auto-feminised is easy to grow and is best suited for growing in small batches since her yield is not high enough for commercial purposes, but at 150 g per square metre it is a good selection for those who grow for personal use and those who use marijuana for medical purposes. Best of all, every bit gets used and enjoyed with no worries about shelf life. The flavour of Blue Cheese is sweet and fruity with a musky, earthy undertone. The smell is much like the latter - a trait of many of the strains with these genetics.
Blue Cheese impressively placed third in the 2006 High Times Cannabis Cup.
Please remember that the growing of cannabis plants and the cultivation of seeds is illegal in some countries - please check the laws of your country and don't be growing any plants if it is against your country's laws.
Genetics:
Big Buddha Blue Cheese X 3rd Generation Automatic (reversed)