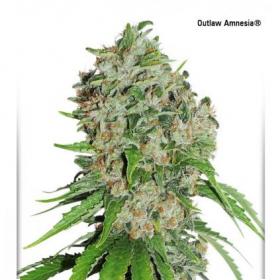 Outlaw Amnesia Feminised Seeds
Outlaw Amnesia was created from a special selection of Super Haze crossed by a very special clone of the original Amnesia.
It is 80 per cent sativa and 20 per cent indica with a prodigious output.
Outlaw Amnesia is a plant that stretches quite a bit once it has entered the flowering phase and for this reason, it is recommended that the SCROG system be used to train its branches and thus increase its yield.
In this way, as many as 500 gr/m2 can be cultivated in hydroponic settings in a flowering period of 12 weeks.
Although some plants may be ready to harvest at 9 weeks, the majority will actually benefit from an extra 2 or 3 weeks to increase resin production and to fatten buds. Growers using soil mixtures are likely to get a little less than this.
It is also a good plant for greenhouse cultivation, where it will be finished from mid-October to the beginning of November.
Outdoor cultivation is therefore reserved for very warm climates with longer growing seasons such as the Mediterranean.
The taste of Outlaw Amnesia is very Haze, with fresh, sour and spicy notes.
Its THC production is high at 15%-20%, which delivers a fast-acting, uplifting sativa-style high that is very clear and expansive.
A large and relatively inexpensive strain that should be tried by all sativa lovers.
Genetics:
Super Haze x clone of Amnesia