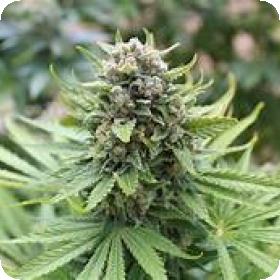 Kong 47 is an extremely potent hybrid of King Kong and AK 47. The resulting strain is high yielding and fast flowering with an amazingly unique but somehow familiar flavour.
This strain comes from extremely good stock and has lots to offer an experienced grower. The buds are dense and covered with resin, the yield is powerful and extremely pleasant. It combines a mind and body high in a way that is super relaxing. 
This strain is feminised and will only grow into female plants. Feminised seeds are ideal for growers who don't want to breed their own crops. For these growers the male plants are a total nuisance as well as causing issues during the flowering period.
They can harm the females and have to be removed, which is a huge waste of time and money. Feminised seeds are also higher in quality and uniformity than regular seeds. For this reason some breeders also prefer to use them, even though feminised breeding is extremely tricky. 
This strain is versatile and can be grown indoors or outdoors. 
Remember that the cultivation of cannabis seeds is illegal in some countries, please check the laws of your country before attempting to cultivate cannabis seeds.