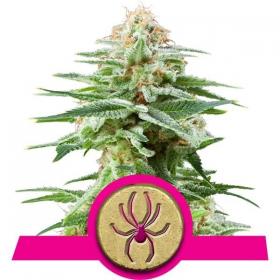 White Widow Feminised Seeds
White Widow is one of the most renowned feminised strains from Royal Queen Seeds and although its origins remain ambiguous it can be said with certainty that this variety was bred in the Netherlands.
This particular strain is Indica dormant which means it has a short flowering time of 8-9 weeks and has a high to very high THC content.
It is a very easy plant to maintain which makes it perfect for novice growers and will reach up to 1 m in height indoors, or 2 m outdoors and although it would prefer a lot of sun it can also grow in more northern countries such as France and the UK, although here it may not reach its full potential.
Indoors it can produce a yield of 450-500 gr m2 compared with an outdoor yield of 550-600 per plant.
Royal Queen Seeds has produced the White Widow as feminised in order to make it even easier to grow for first-timers, this simply means that there is an almost 100% chance that all the seeds will be females.
In regular seed packs there is usually an equal split between male and female plants, however the males actually serve no real purpose other than to waste valuable time and space.
It even becomes more expensive as a grower needs to purchase twice the number of seeds as needed in order to ensure the correct amount of females. Feminised seeds therefore mean that this no longer is an issue and that all of the seeds will be able to be cultivated.
Males only become useful if a grower is wishing to breed their own crop, in which case the males will be needed for their pollen.
However, even then, it is possible to manipulate the females into producing this pollen for breeding and this will result in a future crop that has a greater genetic consistency than if both males and females had been used.
It should be stated, however, that this is a complex process and one which should not be undertaken by any but the more experienced breeders.
Please remember that the growing of cannabis plants and the cultivation of seeds is illegal in some countries - please check the laws of your country and don't be growing any plants if it is against your country's laws.
Genetics:
Brazilian Sativa x South Indian Indica (Kerala)