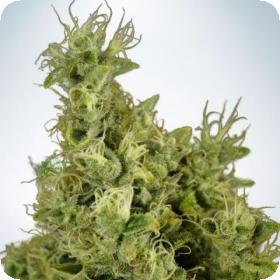 Mandarin Haze Feminised Seeds
In order to create Instakush the Ministry of Cannabis combined two of the best Kush strains they could get their hands on. A cross of Hindu Kush and OG Kush with a short flowering period and a potent effect. It has a refreshingly light scent with hinds of wood and citrus.
The effect is long lasting and pretty powerful, but not too soporific, which makes it an excellent strain for relaxation. It is a compact and robust plant that is resistant to mould and disease, making it a good choice for beginner and experienced growers alike.
Instakush is a feminised strain, so it will only grow into female plants. Feminised seeds are perfect for growers who have no need for the male plants. The males take up around half of a regular crop and can damage the females later on in the flowering period. As a result they have to be removed, which in turn is a huge waste of time, money and energy. Feminised seeds also tend to be higher in quality and uniformity than regular plants.
This strain has a flowering time of just 8 weeks and can be grown indoors or outdoors.
Remember that the growing of cannabis seeds is illegal in some countries, please check the laws of your country before attempting to cultivate cannabis seeds.