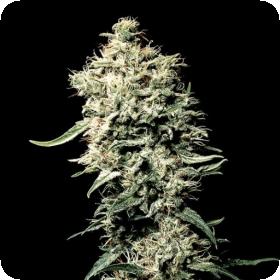 White Rhino Feminised Seeds
White Rhino is an exceptionally potent hybrid strain whose genetics come, in part, from the iconic White Widow with the added benefit of some notably strong indica qualities.
The result is a curious hybrid effect - an uplifting high supplied by the White Widow and a strong head-filling stone typical of a great indica. The plants are somewhat short and stocky and flower within about 65 days on average.
The aroma is a bit more hashy than the original White Widow and the smoke is a bit more harsh. It also has a slightly sharper flavour. These differences are indicative of the intensified strength greater duration of the effect.
These plants produce yields of around 500 g per square metre under the most favourable growing conditions.
White Rhino grows and behaves like a pure indica. Growers who work primarily with indica strains can use any preferred method for cultivating it.
Some growers have suggested that hydroponic methods are the best option for this strain, but others report having just as much success growing in soil setups and even growing outdoors.
Outdoor growers should be aware that the plants do respond better to temperate climates and areas with long, warm growing seasons.
Since they have such a short flower time, starting around the summer solstice and giving the plants a majority of long sunny days and warm nights will allow for harvest at the end of Summer (late September) and ensure good yields.
Probably the most attractive aspect of these seeds is that they are feminised, making them simple to grow, even for the most inexperienced of growers. These seeds are so dependable that there are almost never any instances of male plants.
The yields will generally be consistent even when the plants are subjected to a bit of novice trial and error.
Genetics:
Afghan x Brazilian x South Indian.